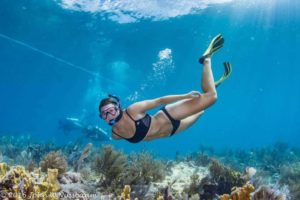 Hometown: Military Brat – Heart Home Now: Key Largo, FL
Certification Level: OWSI
How long have you been diving? 3 years
What inspired you to begin diving?  Dad was a Navy dive instructor. I finally tried it myself in the deep end of the pool at the age of 17 and fell in love.
Favorite local dive site: Fire Coral Caves
What is your diving advice?  Listen to the captain & crew. Learn to actively THINK while diving.