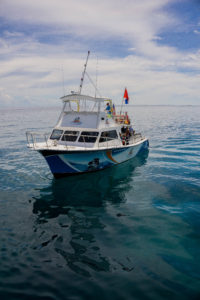 Ocean Divers is lucky to have a huge variety of diving on sites that are a short boat ride away. Our reef dives are mostly within the Florida Keys National Marine Sanctuary or Pennekamp State Park which are protected areas that offer opportunity for encounters with turtles, southern stingrays, goliath groupers, and more. It's the 3rd largest living reef system in the world and the only living coral reef in the US! If you have your advanced certification, you can also experience our world famous wreck dives like the USCG Duane and Spiegel Grove.
We offer daily wreck and reef trips departing both morning and afternoon, 365 days a year! Check-in is 7:30am for the 8:00am dive and 12:30pm for the 1:00pm dive. Each trip is approximately 4 hours total.  Night dive departures vary based on time of year as well as our Special Trips so be sure to check your reservation confirmation. A short 35 minute boat ride will put you on our most popular sites located on Molasses Reef with the longer dive site travel taking up to 55 minutes.
Check out our world-famous Upper Keys dive sites here. 
To book a trip or for more information about trips and our current schedule please call 305-451-1113 or email us at to:odie@oceandivers.com">odie@oceandivers.com.
We look forward to diving with you in the gorgeous Florida Keys!