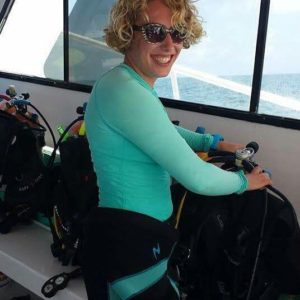 Hometown: Charlton, NY
Certification Level: Master Scuba Diver Trainer
How long have you been diving?: 10 years
What inspired you to begin diving?: I was a swim team kid, then a lifeguard, and I planned to pursue a Marine Ecology degree.  I love the water, so I had always wanted to scuba dive, it was a natural step.  I didn't realize how much I would fall in love with it though, I am no completely hooked!
Favorite Local Dive Site: The Duane, The Spiegel Grove, Molasses Reef
What is your diving advice?: Master your buoyancy! Everything in diving comes down to how good you are at having neutral buoyancy, your air consumption, dive length, the safety of the reef,the quality of your photos and videos, comfortably equalizing your ears, safe descents and ascents, and overall enjoyment of your dives.