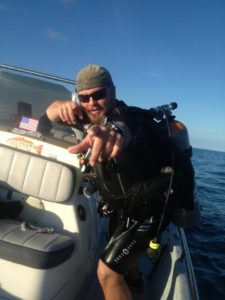 Name:  Captain Owen Palmer
Hometown: Houston, Texas
Certification Level: USCG Certified Captain & Master Scuba Diver Trainer
How Long Have You Been Diving? I put my first scuba tank on in a pool at 4 years old. I got certified at 12 years old.
What Inspired You To Begin Diving? My love for the ocean.
Favorite Local Dive Site: USCG Duane
                                                              What Is Your Diving Advice? Take the time to learn proper buoyancy control. Proper buoyancy makes you much more comfortable in the water, while protecting the fragile aquatic environment.